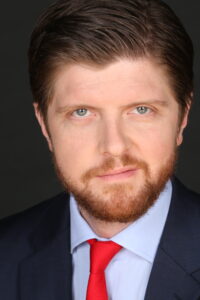 Buck Sexton (born 28 December 1981) is an American radio host, political commentator, podcaster, writer, and former CIA intelligence officer. He is best known as the co-host of the popular " The Clay Travis and the Buck Sexton Show" that is nationally syndicated by Premiere Radio Networks, a subsidiary of iHeartMedia.
Sexton is also the host of "Hold The Line" on The First TV and formerly guest host for "The Rush Limbaugh Show," "The Sean Hannity Show," and "The Glenn Beck Program." Sexton as a renowned radio host often discusses business, politics, entertainment, and social issues.
He is also a regular guest analyst appearing on Fox News and Fox Business Network. He was formerly a CNN contributor, and host at The Hill TV "Rising."
Early life and education
Sexton was born on 28 December 1981 to Mason Sexton and Jane Hickey. He grew up in Manhattan, New York, with two brothers and a sister named Mason, Lawrence, and Daisy. Sexton completed his high school education at Saint David's grammar school and Regis High School. In 2000, he enrolled in Amherst College in Massachusetts, where he acquired a bachelor's degree in Political Science.
Career
Sexton joined the Central Intelligence Agency as an analyst in 2005. He was first assigned to the Al Qaeda-focused Counterterrorism Center (CTC). In 2006 he transferred to the Office of Iraq Analysis (OIA). In 2010, he joined the NYPD Intelligence Division as an Intelligence Research Specialist to assist on counterterrorism cases.
Sexton began working as a national security editor for Glenn Beck's Blaze in 2011. He was hired as a contributor and eventually became a permanent anchor on GBTV's Real News. Sexton started a Saturday radio show, the Buck Sexton Show, in 2012 and within a year it was changed to five days a week. Sexton filled in for Rush Limbaugh, Sean Hannity, and Glenn Beck starting in 2014 on their syndicated radio programs.
Sexton began working as a paid political commentator for CNN in 2015, a position he held until 2017. In 2016, Sexton joined Premiere Radio Networks as the host of "America Now," a nationally syndicated radio show. The name of the show was officially changed to "The Buck Sexton Show" in 2018.
Sexton joined TheHill.com's show "Rising" on the HillTV as a co-host in 2017 and became a contributing columnist at thehill.com. Sexton was confirmed as the co-host of the "Clay Travis and Buck Sexton Show," which would take over for Rush Limbaugh in 2021. The show is broadcast on nearly 400 stations across the country, according to iHeart Media.
S.No. 
Year
Title 
Type
Role

1

2013-2014

Red Eye w/Tom Shillue

TV Series

Guest Panelist 

2

2013-2016

The Kelly File

TV Series

Self

3

2014

The Independents

TV Series

Self

4

2014-2020

Fox and Friends 

TV Series

Self

5

2017

S.E. Cupp Unfiltered 

TV Series

Guest Panelist 

6

2017-2018

Louder with Crowder

TV Series

Guest appearance

7

2017-2021

The Buck Sexton Show

TV Series

Host, Producer, Writer

8

2017-2021

Outnumbered

TV Series

Self

9

2018

Rising with the Hill's Krystal

Ball and Buck Sexton

TV Series

Co-host

10

2018

The Greg Gutfeld Show

TV Series

Guest Panelist 

11

2018

The McLaughlin Group

TV Series

Self

12

2018

America with Eric Bolling

TV Series

Self

13

2018-2020

Your Welcome

TV Series

Guest appearance

14

2019

Special Report with Bret Baier

TV Series

Guest Panelist 

15

2019-2020

Media Buzz 

TV Series

Self

16

2019-2020

Real Time with Bill Maher

TV Series

Guest Panelist 

17

2019-2021

The First 

TV Series

Self

18

2019-2021

Tucker Carlson Tonight 

TV Series

Self

19

2020

America First with Sebastian Gorka

TV Series

Guest appearance

20

2020

Come Hang with Malice

TV Series Documentary

Guest appearance

21

2021

The Megyn Kelly Show 

TV Series

Self

22

2021

The Truth with Lisa Boothe

TV Series

Self

23

2021

The Clay Travis & Buck Sexton Show 

Podcast Series

Co-host, Producer, Writer

24

2021

Gutfeld!

TV Series

Self